A New Hit to India's Economy: Labour Shortage for Indian Industries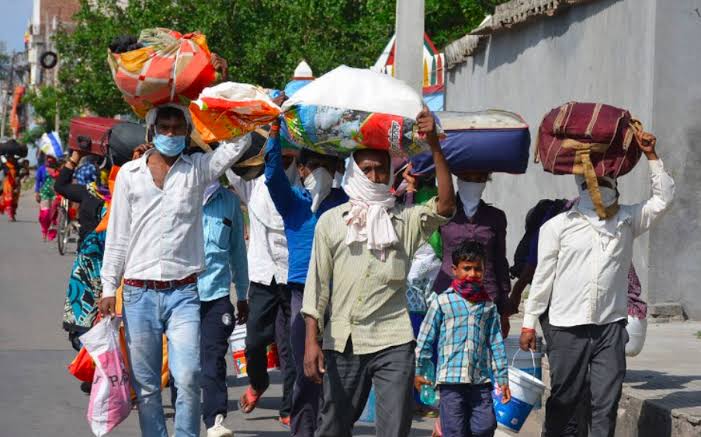 During the past months, we have seen a shortage in food, PPE kits and transportation services for migrant labourers. With the removal of lockdown Indian Economy is now facing a new crisis. As industries decide to initiate their working again, they are now experiencing a new challenge of shortage of labour.
The shortage of labour would affect the GDP of India. Despite previously seen high turnovers of the big companies of India, shortage of labour can easily reduce their production leading to lower profits.
According to sources, it has been calculated that there would be approximately 45 to 50%worker shortage to the real estate and construction, healthcare, manufacturing, FMCG, e-commerce, and pharmaceutical industries. Companies and factories are in greater need of
these workers and are open to hiring them as movers, packers, delivery staff, sweepers, lab technicians, masons, electricians and security guards, etc.
India already has a suffering economy and now when Unlock 1 has been introduced the industries who want to bring back their potential are offering incentives to the workers. With the increase in demand for labourers there can be seen a hike in the wages of workers. In addition
to higher wages companies are ready to go the extra mile by offering various incentives to workers like food, transportation, and hostel facilities. To retain migrant workers, some companies are now following safety protocols by providing them a 15-day quarantine facility and giving them a sense of security towards their health.
The shortage of migrant labourers has hit the E-commerce industry less than it has hit the construction and real estate industry. Companies are now strategizing on how to bring back the labour force and cover up their losses incurred during the COVID-19 lockdown. The fight to
bridge the demand and supply gap of migrant workers is becoming more and more competitive among industries. There is a certain tension among the CEOs of many firms regarding the retaining procedure of migrant workers.
Companies have started hiring migrant labourers and workers from nearby villages or towns close to their manufacturing units.
Dabur India in these terms is way ahead by recruiting workers from nearby villages of their 11manufacturing units in areas like Uttarakhand and Himachal Pradesh and providing all of them with medical cover and transportation. They have also provided housing facilities to some in order to make them feel secured keeping in mind the safety protocols mandated by each statelike social distancing etc.
Other companies like Parle Products and Pepsico are also focusing and depending on the local people of nearby villages and towns instead of the migrant labourers who due to lockdown had to travel miles away to their homes. "Things have started improving after May 20. Labourers are returning by themselves, because of social security schemes, and as such we aren't facing any problem", Mayank Shah, category head at Parle Products told the Business Standard in an interview.
Major companies like L&T have seen a huge decrease in the labour force. With Unlock 1 in operation, they have started to transport back the workforce. According to the information given by S N Subrahmanyan to Business Standard, they have been successful in adding approximately 2500 to 3000 labourers each day hoping to have their required workforce back to 230,000 in the next 40 days. L&T is already known to provide good labour camps and transportation which makes it more convenient for them to get their potential labour force and strive to achieve new targets defined during this pandemic. They are not only offering incentives to the workers but also to senior executives at multiple locations such as Howrah, Ranchi and Darbhanga to hire these migrant labourers.
Apart from companies, the agriculture sector also demands a huge number of workers. According to sources, Punjab farmers and landlords are now calling out these workers to save their plantation. They are spending thousands and lakhs to bring back their required number of
workers as it is having a drastic effect on the sowing of paddy which is estimated to begin by June 10th. There is also a hike seen in the transportation of these workers now back from their homes to industries or farmlands.
We can see a shortfall of 40% in the labour workforce that had to be involved in paddy sowing this year. Approximately 600,000 workers engage in sowing paddy every year which unfortunately is not the same for 2020. The region that is most affected by this labour shortage is Southern India as numerous labourers have traveled to their far-flung home towns and villages. During the months of April and May, most of the migrant workers who returned from South India, have their hometowns in Uttar Pradesh and Bihar which reflects the possibility of further delay in the production.
There is a hope that the shortfall may not extend much and might be recovered soon as there is a huge amount of human resource present in rural areas which can be utilized in several sectors be it engineering or construction. With the increase in unemployment due to lockdown, there would be many labourers who would come back to seek employment and earn income to incur the losses borne by them and to pay back the due payments for loans taken by them for travelling back to the hometowns.
With the coming of coronavirus the plight of migrant workers worsened. For more than 2 months, we heard many migrant labourers walking miles back to their homes, losing livelihood, suiciding, or meeting with accidents. We heard many migrant workers with sore feet due to
walking miles and miles, many migrant workers borrowing money and other means to travel back to their hometowns and many losing their families and themselves during their journey back home. There is a possibility that migrant workers will return to these industries due to
social security schemes and would join their workforce soon.