Is Indian Economy is fully reliable on liquor industry that it necessary to open it during the pandemic lockdown?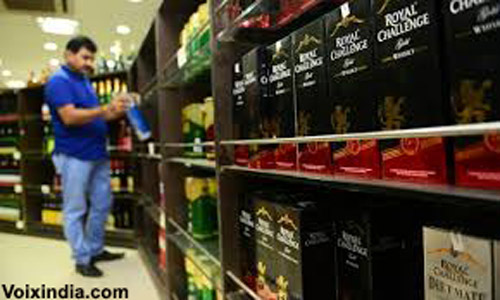 Covid-19 may change many aspects of work, life and the economy, but India's relationship with alcohol will likely remain intact. However the connection between liquor and people is might get stronger.
A strange dichotomy runs through the alcohol economy. It won't be owned, and it won't be disowned. State governments, which often punctuate alcohol regulation with moral overtones, have no problem putting alcohol at the front of the queue in terms of priority in a moment of crisis.
The reasons are obvious: India's states, put together, earned about 2.25 trillion from taxes on alcohol in the most recent fiscal year.
Lifestyle change in outlook towards social consumption of alcohol .
India is an ideal market for high revenue growth of alcohol owing to increasing consumption among the people. This increase is expected to drive the growth of the alcohol market in the country.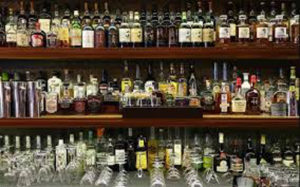 The Indian lifestyle, especially of the urban population, has witnessed a radical change over the recent years. A change in outlook towards social consumption of alcohol, increasing alcohol consumption among women, growing prominence of "pub and cocktail culture" in urban cities and emergence of novel Food & Beverage formats has resulted in increasing demand for alcoholic beverages in the country.
All these factors are boosting the revenue growth of the India alcohol market and this growth trend is anticipated to continue throughout the forecast period.
Liquor revenues are a cash cow for Indian Economy .
As India attempts to roll back the national lockdown, one of the first moves of the state governments has been to open up the liquor stores.
For nearly all state governments, liquor revenues are a cash cow. The peoples have no problem jostling in queues outside alcohol outlets in the middle of a pandemic.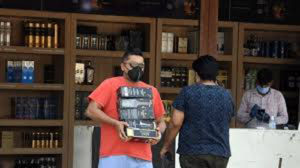 As a result, India has never managed to have a serious reckoning either on safe drinking, or on whether the state should control the alcohol economy so closely.
Initial days liquor sales is of worth millions of dollars.
On the initial days liquor sales is of worth millions of dollars have been reported across different parts of India
In the Maharashtra state, reported sales worth 62 crore rupees in a day from 1.6 million liters of alcohol, fetching its state government 1 million in excise duty revenue.
Uttar Pradesh, India's most populous state, sold liquor worth US$13.2 million on its first day
While in Karnataka reported sales of $26 million on the second day of reopening of stores .
India's dependence on alcohol revenues is much greater compared to developed economies .
The 21 states, including several large states, derived more than 15% of their own tax revenues from the sale of liquor. For all states, the excise duties on liquor are considered the second or third largest source of State's Own Tax revenue.
They still have a few items they can rely on for revenue that is , petroleum products, registration of land and vehicles. But in the current scenario, where nearly every revenue stream is severely strained, alcohol sales was savior for the Indian economy.
India's dependence on alcohol revenues is much greater compared to developed economies like the US and the UK that garner US$10 billion and US$13.05 billion respectively from alcohol excise duties.
Prioritization of opening liquor stores was financially motivated.
When the pandemic-induced lockdown was first announced, the Centre excluded liquor shops in the category of establishments that would stay open. It was not deemed to be "essential".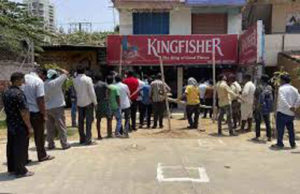 But as the days under the lockdown accumulated, and as the economy and tax collections slumped, states started discussions with the Centre to allow liquor vends to reopen. The states' prioritization of opening liquor stores was financially motivated.
Alcohol added significantly to India's misery for multiple reasons.
However, the reality is far different. During COVID-19, alcohol added significantly to India's misery for multiple reasons.
First, people thronging the liquor stores broke the social distancing rules. From mile-long queues to traffic jams. Big cities including the capital of Delhi witnessed the chaos that could very well lead to infections.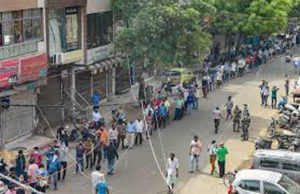 Second, one doesn't need to be an expert to speculate that a large number of the first-day buyers are those who are dependent if not addicted to alcohol. Using vulnerable people for profits seems unethical for any government.
Third, moderate and heavy alcohol use are known to be involved in the disruption of immune pathways leading to increased risk for pneumonia, tuberculosis, and other respiratory conditions.
Increased alcohol consumption increases the risk of hypertension, diabetes mellitus, ischemic heart disease, cancers, etc.
These underlying conditions are known to increase the risk of death from COVID-19.
State government took some other initiatives when they see that the demand for liquor is inelastic .
With queues not relenting, and posing a health hazard, Delhi imposed a 70% 'special corona fee' with immediate effect. But studies have shown that the demand for liquor is inelastic
Even as queues and disorder increased, states didn't backtrack on this discretionary good. Instead, they pressed police persons to manage queues.
Implicitly or explicitly, what revenues from liquor taxes could do to states, especially at a time like this, formed a part of this decision-making.
As a result to avoid chaos and maintain social distancing Delhi issued e-tokens. Maharashtra allowed home delivery of alcohol.
Is alcohol is bad or good in long term for Indian Economy .
Alcohol is bad for the Indian economy in the long run.
A recent comprehensive modeling study suggests that a loss of 543 million life-years due to alcohol-led afflictions would add up to an economic loss of US$71.6 billion between 2011–2050 .
When health care costs and other losses to the economy (health system financing, out-of-pocket expenses, productivity losses, etc.) are included the total can be up to US$2.77 trillion (US$2.2 trillion if we deduct tax revenues).
This means that economically, every year, India loses 1.45% of its GDP due to alcohol. For a country that had total public health spending of 1.28% of its GDP in 2018, opening up liquor industry is a financially poor strategy.
Opening liquor stores during a pandemic does more harm than good to the country and its people.
Ethically, medically, and financially, opening liquor stores during a pandemic does more harm than good to India and its people. Momentary boosts to the economy and government coffers in no way should be allowed to create immediate health risks or long-term financial losses for the country.
The exit plan from the world's biggest lockdown in a democracy of a billion people needs to involve people's welfare instead of government's monetary interests.