India lost Incredible talent, know Irrfan khans' life achievements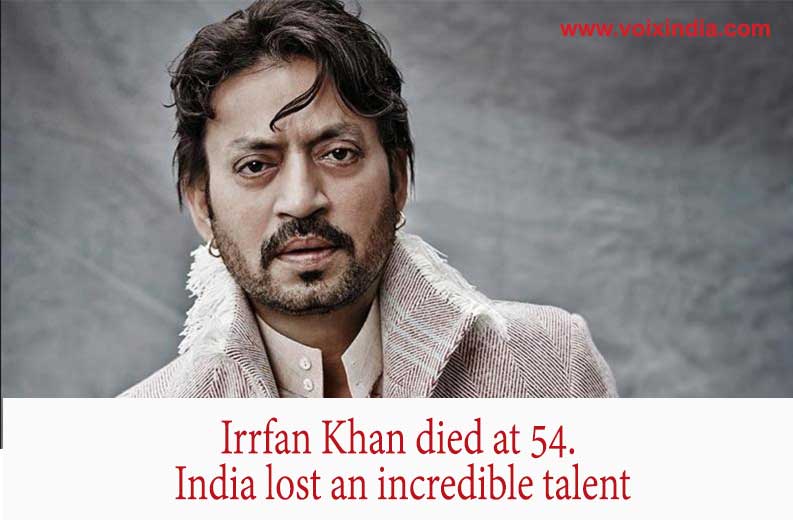 Irrfan Khan dies after a long battle with cancer
Bollywood actor Irrfan Khan died on Wednesday. He was 54 years old. Bollywood actor Irrfan Khan has been battling a disease called neuroendocrine tumor for a long time. It is being told that Irfan's health has suddenly worsened, after which he is taken to the hospital. Irfan has been admitted to Kokilaben Hospital in Mumbai. Ironically, his mother, Saeeda Begum, died a few days before his death.
The journey from a common man to becoming a famous personality.
Irrfan Khan, also credited as simply Irrfan Sahabzade Irfan Ali Khan was born in 7 January 1967 in Jaipur, Rajasthan to Muslim parents in the village of Tonk near Jaipur, Irrfan's mother had a royal lineage but his father was a self-made man. Eldest of three siblings, Irrfan joined National School of Drama after his father's death is an Indian film actor, known for his work predominantly in Hindi cinema.
In a film career spanning almost thirty years and featuring in more than fifty domestic films, Khan has received numerous awards, including a National Film Award and Filmfare Awards in four categories. In 2011, he was awarded the Padma Shri, India's fourth highest civilian honour for his contribution to the field of arts
The successful drama Life in a… Metro (2007) marked a turning point in Khan's career and his career got a new twist due to his frequent superhit films and his successful films Haider (2014), Gunday (2014), Piku (2015) and Talvar (2015). His highest-grossing Hindi release came with the critically acclaimed comedy-drama Hindi Medium (2017), which became a sleeper hit in India and China, which ranks among highest-grossing Indian films of all time
Irrfan Khan was honored with the Padma Shri Award from former Indian president Pratibha Patil in 2011.
He was also appointed in the campaign of Rajasthan State Government as the Brand Ambassador for Resurgent Rajasthan. He lent his voice to the light and sound show at the war memorial for the Indian army at Vidhan Sabha Road, Jaipur.
List of Irrfan Khan's movies with Awards and honors
2004 Haasil -Filmfare Awards, Zee Cine Awards
2004 Maqbool-Screen Awards, Best Zee Cine Awards
2007 The Namesake-Alliance of Women Film Journalists, Independent Spirit Award, Stardust Awards
2008 Life is a metro -Producers Guild Film Awards, Filmfare Awards, International Indian Film Academy Awards, Screen Awards
2008 Slumdog Millionaire-Part of Blockbuster which was nominated for 10 Academy Awards in 2009.
2009 Mumbai Meri Jaan– International Indian Film Academy Awards
2010 New York– Producers Guild Film Awards, International Indian Film Academy Awards
2012 7 Khoon Maaf – International Indian Film Academy Awards
2013 Paan Singh Tomar – National Film Awards, Filmfare Awards, Producers Guild Film Awards, Zee Cine Awards
2013 The lunch box – Dubai International Film Festival
2014 D-Day– Zee cinema awards
2014 Qissa -Indian International film Festival Queensland
2015 Haider – Bollywood Hungama Surfers' Choice Movie Awards
2015 Gunday – producers Guide film award
2015 Talvar – Big Star Entertainment Award, Star Screen Award, Stardust awards.
2016 Piku– Festival of Melbourne, BIG Star Entertainment Awards, Times of India film award, International Indian film Academy Awards, Zee Cine awards
2018 Hindi medium – Filmfare Awards, Screen Awards, zee cine awards
Irrfan Khan contribution in Hollywood movies
The Warrior: 2002
A Might Heart: 2007
Life of Pi: 2012
Jurassic World: 2015
The Amazing Spider-Man: 2012
Inferno: 2016
Puzzle: 2018
New York, I love you: 2008
This is very sad for Indian cinema and Indian cinema lost a Kohinoor today. As soon as the news of Irrfan Khan died came out, the whole social media blast with the wishes of his soul to find peace and everyone start remembering his contribution to Indian cinema by his art. Not only Bollywood actor actress, even sportsperson, Indian political leaders also tweeted on twitter about his contributions to Indian cinema as well as Hollywood cinema.
Irrfan Khan made his status by his art not only in India but also in the whole world. Irrfan Khan will always remain in Indian hearts and no one will be able to take their place in cinema. Rest In Peace Irrfan khan.
Tags: Irrfan Khan, Irfan khan, Irfan khan movie, Irfan khan movies, irfan khan cancer, irfan new movie, irfan khan achievements, Irfan khan died, movie-download