Am I suffering from Clinical Depression? Know it in 10 minutes.
When even the brightest of lights seem weak enough to light up the dark and when you do not enjoy doing the thing you love the most, you lose interest in everything and everything becomes dull, it is called depression. Clinical Depression is a silent killer, which is a common mental disorder and is being suffered by more than 264 million people coming from different backgrounds, colour, religion, communities and ages, globally.
It is important for each one of us to be aware of depression as depression when caused to someone does not take much time to form a dangerous shape. A certain percentage of people are not even aware that they are suffering from Clinical Depression. It is a healthy choice to be aware about it so that you can prevent yourself or your loved ones from this disorder or you can treat it yourself or get an appropriate treatment (in cases of mild or severe depression) at the earliest. As the recent case of Sushant Singh Rajput
, we can say that depression can contribute to suicide attempts which itself should not be the option for any mind. The death of the brilliant actor left all of us moved and highlighted the importance of mental health. Mental health is as important as physical health. We usually neglect mental health by calling it work stress or mood swings. Whereas, mental health directly affects our appetite, sleep pattern, working capacity and daily lifestyle.
SIGNS AND SYMPTOMS OF CLINICAL DEPRESSION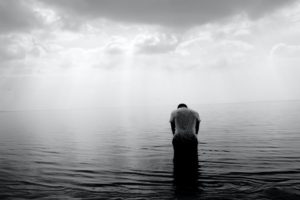 Depression as deadly as it seems should not be considered by the one suffering from it as it will make him or her dive into a deep pool of negative thoughts. It will increase the chances of intensity of the depression. But how do you know if you have depression? Is it just the low feeling or is it something else?
To solve all of these questions we have listed down on the signs of symptoms of clinical depression:
Hopeless Feeling:

If you start feeling or if you start making the perspective that reflects hopelessness you can consider it as a symptom as it is the most common sign of depression. Clinical Depression causes a great impact on the mood of the patient. The person starts feeling low on a constant routine. He or she starts feeling low self-esteem, low confidence or even low sense worth.

Low Appetite:

A depressed mind can either increase or decrease the lack of interest in eating food and would directly affect the physical health of the person. In some cases the person has no appetite and loss of weight and in some cases individuals experience high appetite and weight gain. it is set. If your diet tree changes are not intentional then there is a huge possibility that it is caused due to depression.

Variation in Sleep Pattern:

A depressed mind is a home to several negative thoughts and feelings that inculcate loss of interest as well as the confidence in oneself. The loss of interest and increase in tiredness, depression drives the individual to sleep more than he or she regularly does. Depression can also be linked to insomnia.

Anxiety:

Anxiety is not a common symptom of depression but can be seen in many cases. Nervousness, restlessness or rapid heart beat are a few signs of Anxiety. Sometimes simple anxiety can turn into moderate anxiety disorder if not treated well.

Weak Interest:

Depression activates loss of interest even in the activities or exercises one enjoys to do the most. It has the power to turn the juice of your favorite thing tasteless. Everything feels like a burden in the head and it captures the power of concentration of your mind and weakens it up.

Feeling Overwhelmed:

Depression causes fatigue and cultivates uncontrollable emotions like excessive crying, excessive anger etc. When suffering from Clinical depression, the mind creates a loop of sadness and anger and traps the individual in it.

Suicidal thoughts:
Clinical depression injects suicide thoughts. Every year, approximately 800 000 people die due to suicide and it is roughly estimated that over 50% of the total suicides every year are made due to clinical depression. Whenever you or any person connected to you starts having suicidal thoughts here are some helpline numbers you can reach out to:
● India: International Bipolar Foundation : +91-8888817666
● Jeevan Aastha Helpline : 1800 233 3330 (Toll Free)(24 * 7 available)
Click here for Website and EMAIL : help@jeevanaastha.com
● AASRA : 09820466726 , 022-27546669 or 27546667
Click here for Website

Due to COVID-19 Lockdown in India, there has been a huge increase in the number of people suffering from mental health. If you have experience the above mentioned symptoms for 2-3 weeks regularly then, you should opt to consult someone to have a clear knowledge about your mental health.
It is better if we keep repeating it and making it reach more and more that Mental Health Matters!