Easy steps how to apply for Ration Card Online: Eligibility and other details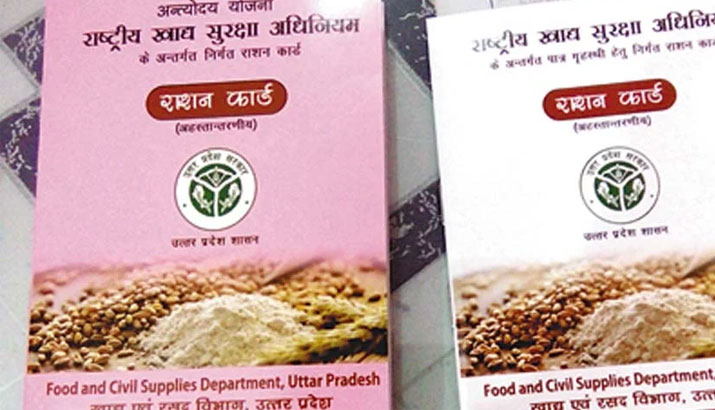 How to apply for Ration Card online registration rules and documents required
Acknowledging that the COVID pandemic and the lockdown have hit the poor the hardest, Prime Minister Narendra Modi announced an extension of the Pradhan Mantri Garib Kalyan Anna Yojana (PMGKAY) for 80 crore people till the end of November.
The scheme to distribute free ration to the poor during the lockdown was going to end on Tuesday.
The PMGKAY was announced by Finance Minister Nirmala Sitharaman on 26 march. This scheme was launched by the  Central government for the poor to "help them fight the battle against coronavirus".
PM Modi announced a five-month extension of this scheme in which food has been distributing to the poor and migrants. As several state Chief Ministers and Congress president Sonia Gandhi had written to the Prime Minister, asking him to extend the scheme.
 "One Nation, One Ration Card": benefit to poor
Yesterday PM Modi talked about the need for a "One Nation, One Ration Card".
One Nation, One Ration Card was one of the major announcements made by the Finance Minister Nirmala Sitharaman in the press conference held during the starting of the lockdown. This is a part of the 20 lakh crores package to combat the liquidity crunch in the economy.
The entire nation will have one ration card. The poor will benefit the most from this. It will help those who go to other states in search of employment, said by PM Modi.
As part of Modi's technology-driven system reforms, the government aims to achieve 100 percent potability of these cards by March 2021, said by the finance minister Nirmala Sitatharaman.
What is a ration card
Ration card is a official document issued by the state government, serves as a proof of identity for Indian citizens. It can be used for the purchase of essential commodities from 'fair price' or ration shop through the Public Distribution System (PDS).under the National Food Security Act (NFSA).
The ration cards are provided based on the total members in a family, and every category of a ration card determines a person's entitlement to rationed goods.
The cards are primarily used when purchasing subsidised food (wheat, rice, sugar and kerosene.)
Who can apply for ration card
Any person who is a legal citizen of India can only apply for a ration card. The applicant should not hold ration card in other states and not possess any other family card in the same state.
These are issued based upon the total members in a family, and each category of the ration card determines an individual's entitlement to certain rationed goods.
Types of ration card
Ration cards come in multiple categories, which are issued as per the earning capacity of an individual.
BPL cards (Below Poverty Line)
These cards are given to those who live below the poverty line and have an annual income of less than Rs.27,000. It was earlier Rs. 10,000 but revised in 2011 to Rs. 27000.
APL cards (Above Poverty Line)
APL cards are given to people who are above the poverty line and their annual income is above Rs.10,000.
AAY cards (Antyodaya Anna Yojana)
AAY ration cards are issued to individuals who do not have a stable source of income. Old age men, women, laborers, unemployed people etc come in this category.
Documents Required for new ration card  online application form
Surrender certificate/Deletion certificate/No card certificate if there is no previous family card
Proof of identity and residence
A self-addressed and stamped postal cover or postcard.
Three passports-sized photographs
Details about earlier applications and rejections (if applicable)
Details of any LPG connection
Mobile number/email id
Health card (including the Aaragoyasri card)
How to Apply for Ration Card online?
There are separate website and links to apply for ration card which is dependent upon the state a person lives in..
Each state government has prescribed separate application forms that can be submitted offline or online for obtaining a ration card.
Go to the official website of the state you reside in and click on ration card online apply.
For instance:
How to Apply for ration card online apply Uttar Pradesh  2020 || online ration card application form
You can download and print your online ration card application form. You will find the form on the official website of the concerned authority.
Visit the official website of the Food and Civil Supplies Department: Click here
Once you reach the homepage, select "Download Forms".
From the dropdown list, click on "Application Forms". You will see the links of application forms for urban and rural areas.
Select your application form link. Now, the application form will appear.
.
Download the online ration card application form.
.
Print your form and fill in all the details.
Submit the application at the regional CSC center or Tehsil center.
IMPORTANT – (Any application form which has wrong or incomplete information will be rejected).
How to Find Your Name in the UP Ration Card List 2020? || online ration card download
Visit the official Food and Civil Services Department of Uttar Pradesh government website.
Scroll down to Eligibility List of NFSA. Click on it and a new page with all the districts will open.
Select your district from the list. For this example, we are choosing Agra.
Select your distributor. Once you click on it, your name will be listed if you are eligible for the ration card.
Tags: how to apply for ration card, ration card online apply, ration card list up, online ration card application form, online ration card download