"Justice for Jeyaraj and Fenix": another case of ridiculous Police Brutality in India?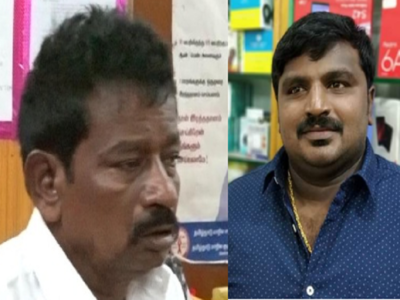 Police Brutality is an offence where police officers exercise undue or excessive force against a subject and violates civil rights. India has been seeing many cases of police brutality recently. The most recent one being the Jeyaraj and Fenix Case of Tuticorin, Tamil Nadu.
The time of lockdown social media has become the new news and media serving station. Since the past two days social media is flooded with the news of the death of Jeyaraj and Fenix with the hashtag of #justiceforjeyarajandfenix.
The news spread from South India to North after an RJ recorded a video talking about the incident and the brutality faced by Jeyaraj and Fenix.
RJ Suchitra, briefly explained how Jeyaraj and Phoenix of Tuticorin experienced police brutality from violence on their knees leading to to death. To watch her full video, click here.
Many activist journalist and individuals are comparing this incident with the Jorge Floyd police brutality incident and are standing up for justice.
According to the viral video of RJ Suchitra, Jeyaraj and Fenix what taken into account as they were suspected to have violated the lockdown rules by not closing the shop on time. They were accused to not follow the curfew rules.
It took more than 24 hours that no one had taken an action against the assault and death of the two men.
It took a lot of time to even get a place at some of the top notch news channels and newspaper companies to cover it.
This violent assault happened in Tuticorin and it feels disgusting to even imagine something like this to be true.
The father-son duo were beaten up so brutally that the police used to to send their blood covered clothes home and ask for a new pair of clothes every once in a while.
The torture they had to experience can put all eyes to shame by only picturing that our own police of this country that is supposed to make us feel safe can be so bloodthirsty. Instead of upholding the law or the policemen involved in the heinous act did not stop and eventually their laathis led to the pronouncing of death of the two men.
Sources tell us that Jeyaraj was a 58 year old man whereas his son Fenix was of the age of 38.
Latest Update on the Tuticorin Police Brutlity
A local Tamil Nadu's court has taken up the hearing of this case.
The current update is that the policeman involved in the police brutality against Jeyaraj and Fenix have been transferred from Tuticorin to another place.
The families have been provided with a compensation of one million rupees by the state government.
What did the Stars say on the case of Police Brutality against Tuticorin's Jeyaraj and Fenix?
Meanwhile the whole country of America was protesting around for the justice against the George Floyd's Death that occurred due to a similar reason, India it has become quite difficult to dissent or stand up against the government or police brutality.
Jeyaraj and Fenix is not the first time India is experiencing police brutality. It has been seen in the capital as well when students of institutes like Jamia Millia Islamia, jawaharlal nehru University etc tried to protest.
But hardly, much Indian Celebrities or Influencers decided to talk about it.
After the opinions made by Indian Celebs on justice for George Floyd many individuals accused them of not speaking up for their own countrymen who have faced a similar police brutality encounter.
This time tables turned a bit. From Kollywood to Bollywood, many celebs took out their opinions on social media and decided to raise voice against the wrong. They have come in solidarity with the victims Jeyaraj and Fenix and highly condemn police brutality in India.
Disha patani shared a photo with a caption "That's so sad, please give justice," While Ritesh Deshmukh also tweeted, "This is tragic and absolute National Shame. It sends shivers down my spine even reading about it. We all must stand together against the barbaric brutality. #JusticeForJeyarajandFenix".
Apart from these two, several other celebrities chose to speak up, like Taapsee Pannu, Tiger Shroff,   Kiara Advani, Vir das and many more.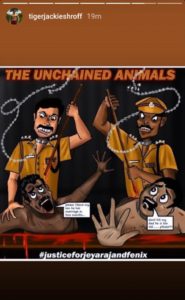 It is a cruel case and requires high attention as it is very alarming to imagine a future full of police brutality encounters in India like the case of Tuticorin's Jeyaraj and Fenix.