Government withdraws mandatory wages payment order during lockdown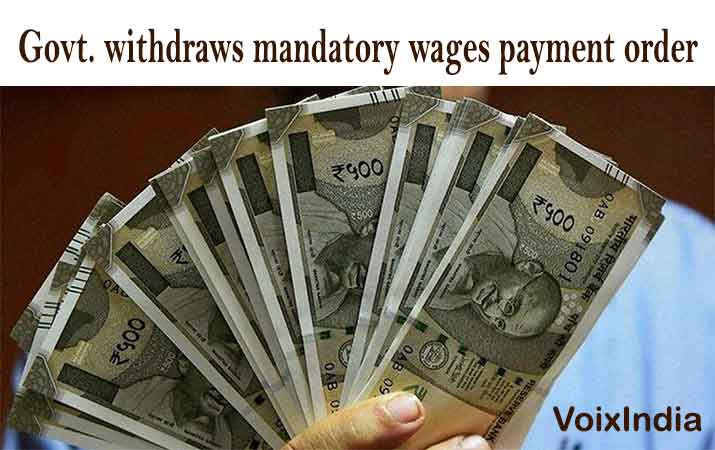 Government withdraws mandatory wages payment order to employees during lockdown

A bad news for the employees of India has come on Monday, 18 May 2020 in the lockdown 4.0 that the Home Ministry withdraws its order of mandatory wages payment. Now it will not be mandatory for any company or firm or business to pay wages to their employees of the lockdown period.
The government have also not given any clear explanation for their move of withdrawing wages payment order. Supreme Court also prohibits the government to take any coercive action against the companies who are not following the Home Ministry's order of mandatory wage payment as the Government has withdrawn its order. Along with this, the order also barring landlords to demand rent during lockdown has also been withdrawn.
Mandatory wages payment order given by Home Ministry
After the announcement of first Lockdown, on 29 March 2020 Home Ministry's order had said: "All the employers, be it in the shops and commercial establishment, shall make payment of wages of their workers, at their workplace, on the due date, without any deduction, for the period their establishment is under closure during the lockdown." As this order given by the Home ministry so it should be followed and this order is very likely similar Labour Ministry's advisory on wage retrenchment or wage-cutting. However, it's an order given by Home ministry so it is backed by an act which means it will be mandatory to follow and its violation will be a punitive action.
After the commencement of this order many business organizations including Ludhiana Hand Tools Association and Ficus Pax had challenged this move of the government to the supreme court. On Friday, 15 may 2020, the apex court asked the government not to take any coercive action against business organizations which haven't paid their workers' full wages on the basis of Home Ministry's order during the lockdown.
In the support of business organization, a three-judge bench indicated that releasing of full wage payment for any small and private enterprise may not be viable as they are already tottering on the brink of insolvency due to lockdown. The court also instructed the government that this omnibus order has so many issues and problems so that they should reconsider this order for better improvement.
The order said " Save as otherwise provided in the guidelines annexed to this order, all order issued by the NEC ( national executive committee) under the section 10(2)(I) of the Disaster Management (DM) Act, 2005, shall cease to have effect from 18.50.2020"
After withdrawing wages payment order, accompanied by Supreme court,  Virjesh Upadhyay, General Secretary of Bhartiya Mazdoor Sangh (BMS) said that this new order amounts to complete injustice to workers. "When the government is ensuring salary for others, there cannot be a separate set of rules for workers. Ensuring livelihood and wages during the period of lockdown is the duty of the government," he said while adding that BMS agitation on May 20 will emphasize three broad points — complete wages during the lockdown, negating the amendments to labour laws and ensuring livelihood wherever the workers are.
---
Also Read this: Lockdown 4.0: अर्थव्यवस्था को मिलेगी रफ़्तार, जानिए कैसे
---
UK Government paying 80% of workers' wages
According to BBC, the UK government announced to pay up to 80% of workers' wages, covering wages of up to £2,500 a month. The UK Resolution Foundation think tank said this package is "Hugely Welcome", reaching lower-paid workers that were most at risk of job losses.
"It marks the start of the UK's economic fightback – an unparalleled joint effort by enterprise and government to help our country emerge from this crisis with the minimum possible damage," said director-general Carolyn Fairbairn.
Rishi Sunka, CBI of Employers' body of UK, this announcement is "landmark package".
Donald Trump announced to give $1000 or more as direct cash
According to BusinessInsider, Americans will get a government check of $1000 or more in the coming weeks. It's a party of $1 Trillion stimulus bill the Trump administration announced. It focuses to arrest the economic damage from the corona virus pandemic and provides a widespread cash injection.
The decision here is not good for the Indian economy, people getting unemployed, and businesses on rent. We also expected a positive attitude from our government and like the government of the other countries. Here the decision will affect the lives of people very badly, which is contrary to their authority, but we can expect the government to help such people financially in the coming time.
Tags: wages payment order, mandatory wages payment, Donald Trump, landmark package, Rishi Sunka, labour ministry, withdraws mandatory wages payment order.