Is IPL 2020 coming back? "Planned and ready" says chairman Patel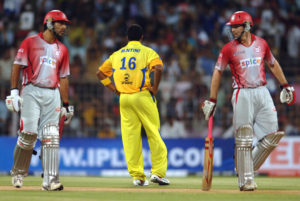 The pandemic brought in several m ajor consequences, one being the breaking of hearts of all of the cricket lovers who were eagerly waiting for the IPL 2020 tournament. Cricket in India is loved, played and supported dearly by many. From young boys of streets to celebrities at magnificent bungalows, whenever a cricket game is on their eyes can't find another route.
How planned are we to host the IPL cricket tournament?
For all the cricket admirers, a new ray of hope is born as the IPL governing council chairman Brijesh Patel says that they are ready to host the IPL tournament in the months of September and October, during this year. He mentioned that everything is planned and ready for the league to be held in September-October but is only awaiting the decision of the International Cricket Council (ICC) on T20 World cup. It is heard that the T20 World Cup is predicted to be played in Australia from October 18th, 2020 to November 15th, 2020.
The ICC has continued to defer the decision on the T20 world cup to be held in Australia where as the Australian minister Richard Colbeck seems to be hopeful for the tournament to be conducted in this year itself. the Federal government seems optimistic about the hosting of T20 World cup which also seems another good news for cricket lovers.
With the ongoing Corona-virus pandemic there is already much anxieties and hesitation present among people which accelerates more and more social distancing norms everywhere. The scare of COVID-19 has led to postponement of various sport tournaments and championships. With this change cricket main now experience socially distant batsman and bowlers and there is a chance that the players might be doubtful about the equipment. It is a very sensitive state and the organising committee has to make sure of all the medical needs and guidelines has to be followed to not let the cricketers' lives go in any kind of danger.
Patel told ANI, "Yes we are ready to go with IPL in September-October window, everything is planned and ready. Will have to follow the guidelines and SOPs, for medical and other things". Amidst the pandemic this is a silver lining for cricketers and their fans, to be able to watch the umpire gloves, stadium and history recreations again. Furthermore, Patel also said,"Can't say as of now that whether the crowd will be there or not. We will have to see the situation at that time but yes we are ready to hold IPL this year with or without crowd… We are waiting for the announcement from ICC on T20 World Cup. If it is not happening, we can hold IPL". According to sources, we have got the information that the International Cricket Council is planning and will continue to strategize "a number of contingency plans" for smooth functioning of the future events.
With Patel's statement, we can start looking for a better and safer tournament. This would also
help the people suffering from mental illness in lockdown due to excessive social distancing. If there comes a chance where we get to see IPL tournament or T20 World cup Australia while sitting at our homes, then it would be a great and healthy distraction and would inculcate high spirit among viewers Cricket is like a healing power to many. With the unexpected postponement of the IPL 2020 Cricket Tournament, the citizens were deeply saddened. IPL 2020 would bring back the excitement and love for cricket. With all the cheerleaders, people from different age, backgrounds and communities will once again come together to support their favourite teams.
With this news there is a hope developed of seeing the cricket matches with families and friends with great zeal. After this pandemic or during our lockdown we will see several changes in the sports sector. The question is what are we going to experience? Social distancing in stadiums, masks worn by players, e-sports or virtual banners?