Aarogya Setu App Download II Its benefits & features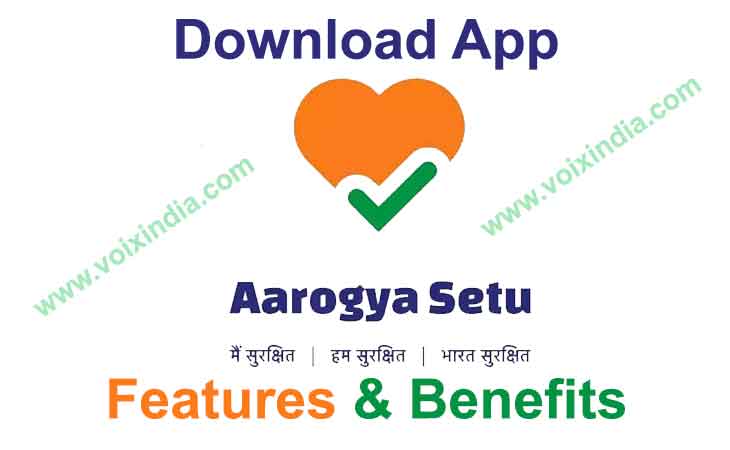 Aarogya setu App Information
Aarogya Setu App, was launched by the Indian government on 2nd of april 2020 as India's comprehensive COVID-19 tracking app. This app will gonna help the government to reach the corona virus victims and overcome with COVID-19 panic. It also helps people to get connected with health information provided by government in the app.
On 14th April 2020, Prime Minister
addressed the nation 3
rd
 time during COVID-19 and requested people to download the Aarogya Setu App. He addressed this recommendation in his 4
th
 point among 7 remedial measures to fight COVID 19. He also mentioned that this app will help the government to track COVID -19 cases.
The Aarogya Setu App are available in android phones and iPhones in India. Aarogya Setu App can be easily downloaded from Google Play Store and Apple Store. This app hits around 6 million downloads in just a week of its launch. It a just a small app of around 3 MB.
Why government launched this app?
Tha objective of the Indian Government to launch Aarogya Setu App is to reach out to people who are suffering from any symptoms that are related to COVID 19 and inform them regarding the risks, best practices and relevant advisories regarding COVID-19.
Aarogya Setu App features-
Aarogya Setu App uses Bluetooth and GPS to track the COVID-19 exposure among the peoples in India.
Aarogya Setu App using GPS track your real time location and Bluetooth will track if and when you come in near by with someone with COVID-19 affected.
Aarogya Setu App will keep your tracking history as long as you travel anywhere, as you have to keep location sharing setting "On".
If anyone exposed himself/herself as COVID-19 and chooses to share it online then this data will be shared only with the government and not with any third parties.
Aarogya Setu App will have access to the government's database to update the known cases of COVID-19.
How does Aarogya Setu App work?
Anyone can register this app through their smartphones.
When you install the app, it will ask to select your language.
Users have to register in this app with their mobile phone number.
Registered mobile number will receive an OTP for mobile number verification,
Other details asked in the app Like Name, gender, age, profession, travel history.
Then it will ask you some generic questions related your health. You may skip too for later.
Now it is ready to use the app.
Benefits of Aarogya Setu App-
It provides you the COVID -19 updates and information in 11 languages including telugu, Marathi, etc
It recommends you the safety measures as do's and don't.
It have youtube government videos that explains you much better to understand COVID-19 updates.
It will also show the details of E-pass if issued by the government to registered users.
It also provides the account information of PM-care fund in case if you want to donate for the COVID-19 crisis.
In the case of COVID-19 exposure, it will direct the person to the nearest COVID-19 help centre.
I recommend you to download Aarogya Setu app to fight against COVID19. Download it using this link Android :
For Android – click here
iOS :
For IOS platform- click here
If you like the information please share it and give your valuable comments.
Tags: #Aarogya Setu App #Aarogya Setu App Download #Why government launched this app #Aarogya Setu App features #How Aarogya Setu App work #Benefits of Aarogya Setu App #pm Narendra modi #pm-care fund #Aarogya Setu App information