10 top video editing apps in 2020 for windows and mac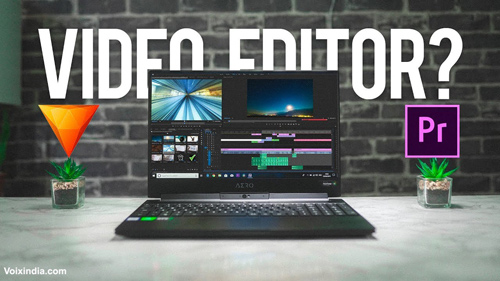 Video editing is the manipulation and arrangement of video shots.
It is used to structure and present all video information, including films and television shows, video advertisements and video essays.
Editing video can be difficult and tedious, so several technologies have been produced to aid people in this task.
Pen based video editing software was developed in order to give people a more intuitive and fast way to edit video.
What is video editing ?
Video editing is the process of manipulating and rearranging video shots to create a new work. Editing is usually considered to be one part of the post production process — other post-production tasks include titling, colour correction, sound mixing, etc.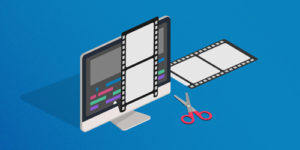 Many people use the term editing to describe all their post-production work, especially in non-professional situations. Whether or not you choose to be picky about terminology is up to you. Rearranging, adding and/or removing sections of video clips and/or audio clips, applying colour correction, filters and other enhancements, creating transitions between clips.are all the part of video editing.
Uses of editing
There are end number of reasons to edit a video and your editing approach will depend on the desired outcome. Before you begin you must clearly define your editing goals, which could include any of the following:
This is the simplest and most common task in editing. Many videos can be dramatically improved by simply getting rid of the flawed or unwanted bits.
It is common to shoot far more footage than you actually need and choose only the best material for the final edit. Often you will shoot several versions (takes) of a shot and choose the best one when editing.
Most videos serve a purpose such as telling a story or providing information. Editing is a crucial step in making sure the video flows in a way which achieves this goal.
Add effects, graphics, music, etc
This is often the "wow" part of editing. You can improve most videos (and have a lot of fun) by adding extra elements.
Alter the style, pace or mood of the video
A good editor will be able to create subtle mood prompts in a video. Techniques such as mood music and visual effects can influence how the audience will react.
Video editing apps has been exploded and are on the heights.
Since the rise of smartphones, DIY video production are on the heights. Freelancers and professional videographers now carry a powerful pocket film studio to film, edit and publish their cinematic creations.
As a result, video editing apps have blown up. Good video editing software can help you showcase your products from every angle by producing professional promos for platforms like Instagram, Facebook, YouTube, or anywhere else you share brand videos.
There are a number of easy-to-use free video editing programs that can help you stand out from your competition.
Top video editor software
You've got your idea, you've got your smartphone, but you're inundated with video editing apps and don't know where to start Each entrepreneur has their own specific needs, so we've run down some of the most useful features of each tool.
Below, we've mentioned a list of the best free video editing software from around the web, and its features , pros and cons and availability.
 Blender
Blender is an open source program that is entirely free to use. Blender was actually designed as a 3D animation suite, but it does come with a very useful video editor. Blender's video editor should be enough for most of your video needs. It is one of the best free video editing software.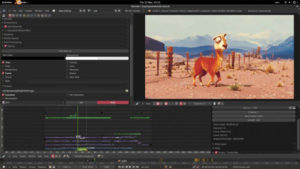 The editor allows you to perform basic actions like video cuts and splicing. It also allows you to carry out more complex tasks like video masking. This makes it a very flexible video editor and caters to both beginner and advanced users.
 Blender Video Editor features:
Live preview, luma waveform, chroma vectorscope, and histogram displays.
Audio mixing, syncing, scrubbing, and waveform visualization.
Up to 32 slots for adding video, images, audio, and effects.
Speed control, adjustment layers, transitions, keyframes, filters, and more.
Pros: Perfect for advanced users who are not put off by all the features.
Cons:  The sheer array of features make the learning curve a little steeper. Most of the tutorials are focused on the 3D animation/modeling side. The resources to help you with the video editor are very limited.
Best for: More advanced projects that may involve 3D animation.
Availablility: Windows, Mac
Lightworks
Lightworks is one of the more powerful video editors on the list. It's absolutely packed with useful features. The free version should be more than enough for most users.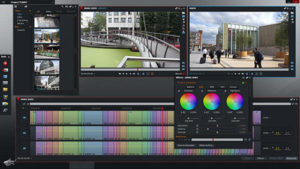 The pro version costs around $25 a month. It is one of the best free video editing software.
Lightworks Video Editor features:
High precision video trimming.
Multicam support.
Export to 720p for YouTube.
A wide range of video formats supported.
While most features are included, 4K video support for YouTube and Vimeo is only included in the paid version of the software..
Pros: Very powerful video editor with many advanced features.
Cons: 4K video support only in paid version. Some users may find Lightworks too advanced.
Best for: All round desktop video editing.
Availablility: Windows,Mac
Shotc
Shotcut
ut, like Blender, is a fully open source program and free software too. This means that after downloading it, you get access to all the features without the need for a paid upgrade.
This video editor supports a wide range of video formats and boasts a great collection of tutorial videos.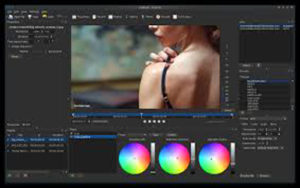 While this video editing software has great features, some users may find the interface a little quirky. This software was originally designed for Linux and it definitely shows. But, under the hood, it's still a quality video editor.
 Shotcut Video Editor features:
4K HD resolution support and its timeline editing as not many free versions of the software include 4K resolution support.
Shotcut also doesn't require you to import your video into the editor: this can be a time saver if you are dealing with large video files.
Pros: Native timeline editing and 4K resolution support.
Cons: Quirky interface may be off-putting for some users.
Best for: 4K, HD video projects.
Availablility: Windows, Mac,
DaVinci Resolve
DaVinci Resolve is the most advanced video editor on the list. It has many professional video features, Alongside video slicing and trimming you can master audio and correct color.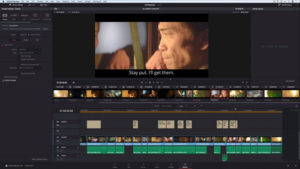 You can also use it to add 2D and 3D titles to your video. If you just want to trim and upload your videos, the rich feature set of DaVinci Resolve may be too extensive.
However, if your video project is a little more advanced, the free version of this software is hard to beat.
DaVinci Video Editor features:
Advanced trimming
Multicam editing
Color correction
Audio mastering
Pros: Intuitive interfaces and incredible color correction.
Cons: Its wide of features make it a little overwhelming, and not all tutorials are free.
Best for: More advanced projects where you need to correct colors.
Availablility: Windows, Mac,
Openshot
Openshot is entirely open source, which makes it one of the best video editing software that is accessible. It may remind some Mac users a little of iMovie with its easy to use drag and drop interface.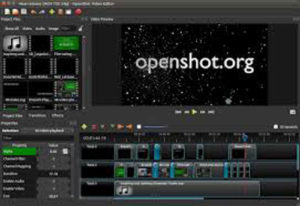 However, Openshot packs more features than iMovie, including unlimited layers and audio mixing. This free editor strikes a nice balance between advanced features and a simple interface.
It also allows real-time previews when you create transitions between clips.
Openshot Video Editor features:
Unlimited tracks/layers
Clip resizing, scaling, trimming, snapping, rotation, and cutting video transitions with real-time previews
Compositing, image overlays, watermarks
Title templates, title creation, subtitles 3D animated titles (and effects)
Advanced Timeline (including drag & drop, scrolling, panning, zooming, and snapping)
Pros: Open source, unlimited layers.
Cons: Not that many video tutorials.
Best for: Great for users just starting out with video editing.
Availablility: Windows, Mac,
Avidemux
Avidemux is one of the best video editing software for beginners as the interface is very simple to use.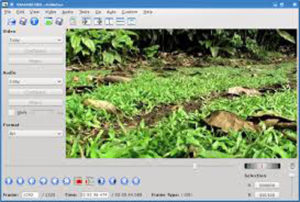 This program can help you to perform basic tasks including:
Simple cutting
Encoding
Filtering
If you are completely new to video editing, this might be a good place to start.
Pros: Very simple software; no need to read technical docs.
Cons: Not as many features as other video editors.
Best for: Basic editing tasks for beginners.
Availablility: Windows, Mac,
HitFilm Express
HitFilm Express is one of the more professional video editors to make the list. It contains all the features you would expect from a basic editor (splicing, trimming, and audio editing) plus much more.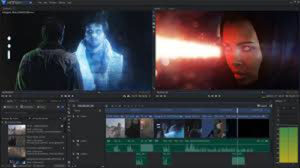 While some users may find HitFilm a little advanced, it's certainly one of the best all round free video editors out there. The free package includes over 180 special effects.
The tutorials are mainly based on well-known Hollywood movies like Star Wars, but these are very interactive and engaging.
Before you can download this software, Hitfilm asks you to share a status update on social media. However, this is a very small price to pay for such advanced software.
Hitfilm Video Editor features:
Advanced cutting tools
Keying for green screen effects
Audio and video filters
Compositing tools
Layers and masking
3D video support
Pros: Truly professional video editor without the price tag.
Cons: May take some time to learn the interface.
Best for: YouTuber Vlogs – YouTube uploading is built in.
Availablility: Windows, Mac,
InVideo
This slick video editing tool is great for marketers, publishers, individuals and agencies alike. With support for video stabilization, team collaboration, and much more this software is best in class for many different reasons.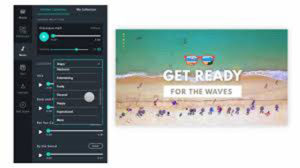 With new high-quality video templates added most months, this tool is good for beginner and seasoned video editors. It is deceptive simple to use, and has amazing flexibility.
Users praise this video editing software for it's amazing customer service, UX, value for money, and of course it's features.
InVideo Video Editor features:
Audio Tools
Brand/Text Overlay
Collaboration
Speed Adjustment
Split / Merge
Supports HD Resolution
Video Stabilization
Pros: Awesome to easily make quick presentation videos.
Cons: It is not an all-in-one video editor, as you cannot add more than one audio file, etc.
Best for: Creating marketing videos or listicles for your blog.
Availablility: Windows, Mac,
iMovie
Good old iMovie comes baked into Mac OS. Like most native Mac apps, this video editor is very intuitive to use. It features a drag and drop interface.
Mac users can use iMovie as a playground for learning the basics of video editing.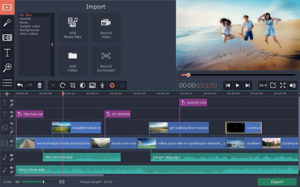 Once you are up to speed, you may find that alternative video editing software in this list may better suit your needs.
iMovie Video Editor features:
Library of pre-made transitions
Video trimming
Audio editing
Split screen
4K resolution support
Pros: Easy to learn.
Cons: Advanced users may find features a little limited; import and render times can be a little slow.
Best for: Mac users getting started with video editing.
Availablility: Mac,
VSDC Free Video Editor
The best free video editing software only available on Windows is VSDC. The free version has a powerful set of features including color correction and audio editing.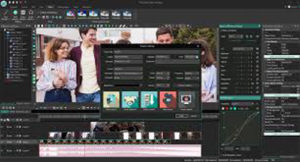 The pro version costs $19.99 and includes image stabilization, voice over support, and visual waveform. If you choose not to update to the pro version, then technical support costs $9.99 for one month, or $14.99 for a year.
Pros: Relatively straightforward to learn with many powerful features.
Cons: Technical support is not free; Windows only.
Best for: Windows-based editing projects
Availablility: Windows,